I've been a Liverpool fan since I was ten years old. I fell in love with the team when Gerard Houllier was managing. Was he the best manager in the history of the team? Of course not. I severely doubt there will ever be a manager, at LFC or anywhere else, who can top the great Bill Shankly. Shankly is beyond legend.
But Houllier was still a pretty good manager. From November 1998 to May 2004, Houllier guided Liverpool to victory in 2 Football League Cups, 1 FA Cup, 1 UEFA Cup, 1 European Super Cup, and 1 Charity Shield. That's a record pretty consistent with every manager post-Bob Paisley, and it's fairly well-known the largest reason Paisley's record looks so good on paper is because Shankly was forever sticking his nose back into Liverpool's business, even after he retired from the team.
When Rafael Benitez came in in 2004, it was viewed by some as a good thing, and some as a very, very bad thing. Rafa never stays on as manager with a team for long. His average is about three years, but in some cases he stayed on for one, and in the case of Liverpool Rafa's been on for five now. A guy who hops around a lot must be a shit manager, right? Look at Brian Clough, for heaven's sake! But at the same time, the man was a very good manager, at least in some cases. He was nothing to write home about, but he did a pretty damn good job with Valencia, and it looked like maybe another Houllier, a decent manager who may not guide Liverpool the level of greatness Shankly and Paisley did, but he would certainly keep Liverpool as one of the best teams out there.
Rafa started out as pretty good, too. Over the years, he's taken Liverpool to win an FA Cup, a European Cup, a European Super Cup, and a Community Shield. In four years, 2004-2008, Rafa was looking like another Houllier. Lesser than Houllier, certainly, but another decent manager, who, like all managers, made the occasional mistake and got a bit more flak than he deserved. Liverpool was 2nd last season, 4th the season before that, 3rd the two seasons before that, and fifth in Rafa's first season.
This season, however, Rafa has beyond dropped the ball. Rafa lost the ball before it even came into play and is now stumbling around like a drunken moron. Now, okay, a lot more people are at fault than just Rafa. The team needs to work harder, work better, practice more. Above all else they need to work on shooting and passing. Liverpool is a TEAM. But Rafa is also very much to blame, especially for today's loss to Sunderland. There is no chance in hell Liverpool ever should have lost to Sunderland today. Not in the post-Shankly days. But Liverpool did lose, and why? Partially because the players out there were shit, which is both their fault for playing poorly and Rafa's fault for putting people out in places they ought not to have been and not using a single substitute the ENTIRE GAME. There's also a few random acts of idiocy that I can't even fathom, like a kid who threw a beach ball into the pitch. A kid who was a Liverpool fan no less!
And you know what aggravates myself and a lot of my fellow Liverpool fans about today's loss? Today's loss to Sunderland is our fourth less. FOUR GAMES LOST BEFORE DECEMBER. That's downright pathetic. At this rate, the best we can hope for is fourth again, and with teams like Arsenal, Aston Villa, and Man City playing the way they have been this year, fourth is looking like an impossibility as well.
So let's pause to look at Liverpool's record so far this season.
LFC v. Tottenham Hotspur (loss)
LFC v. Stoke City (Win)
LFC v. Aston Villa (loss)
LFC v. Bolton Wanderers (Win)
LFC v. Burnley (Win)
LFC v. West Ham (Win)
LFC v. Hull City (Win)
LFC v. Chelsea (loss)
LFC v. Sunderland (loss)
Now, there are some exceptions to the rule, Burnley and Chelsea being the bigger exceptions, but do you know how Liverpool won most of the games they won? It was because of the man who is easily the greatest midfielder out there at the moment, Steven Gerrard, one of the best strikers out there at the moment, Fernando Torres.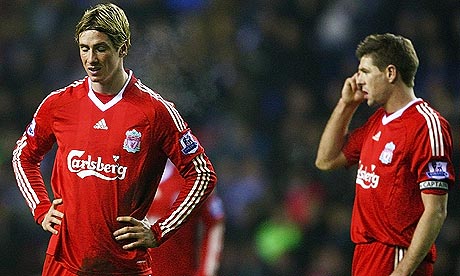 When Torres and Gerrard were both injured playing internationally, Rafa was fuming. Why? Because he knows full well what we fans all know. Rafa has, slowly but steadily, been letting the rest of the team fall to shit, and all because he had Torres and Gerrard. Sure, there have been a few losses, like Chelsea and Tottenham, where even with Torres and Gerrard the Reds lost, but on the whole, as long as Gerrard and Torres were in the game, Liverpool came out on top. And of course, none of us were really complaining when they came out on top. After all, who gave a damn about who scored how many goals? LIVERPOOL WON!
But deep down we always knew, and today's loss leaves us no choice but to confront what we've been suppressing. Liverpool FC, the greatest team out there, has been devolved from a team to a duology. And that really is a problem. Chelsea, who we played last and lost to, would not have lost to Sunderland. And Chelsea was without their finest two players this week. So why would Chelsea win? Because even without their best, they know how to play, they know how to play as a team, and they might not score as high, but they will still score.
Rafa did very good with Valencia, and in light of the past five years, but particularly this season, I am almost forced to echo my fellow fans' sentiments. I want to be nice, however. Don't sack Rafa yet. Four losses before December is a big problem. A two-man team is a MAJOR problem. But I say give Rafa a chance to shape up. Let's see if Rafa can't pull Liverpool together before season's end. No chance in hell will we make second again, nor will we be Champions, but let's see if Rafa can't take us to fourth. If Rafa can take Liverpool to fourth with what's left of the season and do so by actually creating a team and not relying solely on Gerrard and Torres, there will be hope for Liverpool to go on and do a damn fine job next season.
But! Should Rafa fail to prove he can actually build a team, once this season's over, boot his ass faster than you can say Albuquerque. And to echo my fellow fans' sentiments, bring back Kenny Dalglish. Dalglish is already on as club ambassador and as a part of the youth academy. It'll be an easy promotion.
Dalglish was one of the better strikers of Liverpool history, and was voted #1 in "100 Players Who Shook the Kop". Simply put, Dalglish was voted #1 player in Liverpool history. Current Captain Steven Gerrard was voted #2. Dalglish was also one of the better managers of the post-Paisley days. From 1985-1991 Dalglish guided Liverpool to win 3 Division One Championships, 2 FA Cups, and 4 Charity Shields.
And to top it all off, the man can still play, too. A special relief game was hosted at Anfield for the Tsunami in 2005, where ex-Liverpool players played pop stars and the stars of popular TV shows. During the game, Dalglish showed that even after more than a decade of not playing, he still had the goods. Kenny Dalglish is the ideal man to take over Liverpool FC if Rafa fails, and most of my fellow Liverpool fans would agree, judging by reactions to our past two losses.